Note: This entry has been sitting in our draft until the pandemic came. We are aware that everyone is stressed now because of the scare. We need to stay at home, pray a lot, help others in anyway, but life goes on. We hope that this article temporarily transports you to other places , no matter how brief, and somewhat brings you bliss no matter how small. Stay safe everyone!
For the past years, I worked in the same company and stayed in my comfort zone doing the usual routine everyday. It was a perfect set up since I was also raising my kids aside from working full time. I enjoyed every minute of it. I found my second family through my office mates. We do not have much pressure with work that the mood is always light and it feels good spending time with them almost every day.
But sometimes I feel that I stayed to much in my comfort zone that I am doubting myself if I can still do other things outside of what I am comfortable doing. With a twist of fate, our office asked us if anyone would be interested in going to Austin, Texas for a business trip. I volunteered. Everything went so fast to really think about it but since I am going to be with colleague who I am also comfortable with, I took a leap of fate. I won't go much into details about work here due to some confidentiality issues. I will just talk about the places we visited (or not) because of the crazy Covid – 19 virus. We were cautious that we do not want to be sorry in the end but at the same time , we also wish we could have done more sight seeing outside our business hours. We did not get to check our long list of must-see. But despite that, we still visited quite few interesting places before things get crazy, that I want to share with you.
Bullock Texas State History Museum –
This is a huge museum. It is recommended for avid museum lovers since they have very informative artifacts. It is also fun for casual goers since they have mini theaters showing videos depicting their history and even showing music scenes/events since Austin is also known for great live music venues. Entrance is not free but I would say it is worth it. Before entering, visitors can already take pictures in the big lone star which represents Austin. Guests can also see another landmark from the entrance, which is the Texas State Capitol. Upon entering, you can already visualize what to expect inside. The grandeur of the place is evident – the magnificent staircase and outstanding flooring with symbols important to the history of Texas. As mentioned in their website, visiting this museum is a one-of-a-kind journey through more than 16,000 years of Texas history documents the rise and fall of nations up to Mexican Independence in 1821. One of the highlights is regarding their major source of income which is oil and gas production. They presented various tools used and how the industry innovated to adopt to the clamor for ethical best practices for the environment and people as well.
1800 Congress Ave. Austin, TX 78701 (512) 936 – 8746 https://www.thestoryoftexas.com/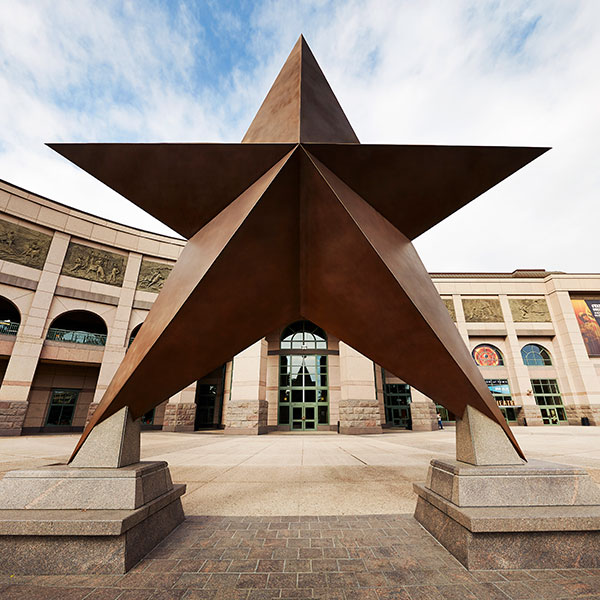 The Domain –
Despite having online business and almost everything now can be bought via online, I still frequent malls. Aside from the immediate satisfaction of choosing and buying what you like right there and then, strolling in the mall is a good leisure activity since you can be spontaneous since everything is there. In the Philippines, aside from hundred of stores to choose from, all the restaurants and coffee shops are lined up as well as various activities such as archery, bowling even ice skating is in the mall. In Austin, we frequent The Domain. Unlike our malls in the metro where everything is compact and boxed in a building, The Domain is a wide space complex composed of 100+ stores and restaurants and various residential and office spaces. We visited their downtown several times. But we always had a hard time finding for cafes and restaurants as every store were a bit far from each other. We always go home being frustrated. But we enjoyed the place because not only it has shops but it also has parks and lots of restaurants and cafes to choose from. They got Macy's, Louis Vuitton, Tiffany's etc.
11410 Century Oaks Terrace, Austin, TX 78758 https://www.simon.com/mall/the-domain
The Capitol
This was one of the very first tourist places we visited. It is located in the downtown. From the outside, it is well maintained with lots of open spaces and trees. The first Capitol structure on this site was completed in 1853. The structure evokes class, power and grandeur. The most prominent sight is the dome with zinc Goddess of Liberty statue on top. Inside this building is Senate and House of Representatives Chambers among others. To solve the overcrowding of the people working inside the Capitol, they expanded it by completing the underground Capitol Extension in 1993. Entrance to this building is free. There is a tour which lasts for 30 minutes and free of charge .
1100 Congress Ave, Austin, Texas 78701 Contact Number 512.305.8400 https://tspb.texas.gov/prop/tc/tc/capitol.html
Stay tuned for the next series of posts from my U.S trip. Thank you for reading!